Design for Life
The Stereoscope
In order to show these wonderful photographs to best advantage, we have designed a unique and novel stereoscope which:
is lightweight and robust
gives a unique shadowless light
provides excellent image quality
can be used hand-held or standing on a desk or table
works first time - every time - even for beginners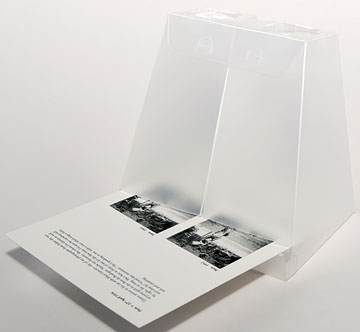 Custom Stereoscope.
The latest Mark III version of this stereoscope is better designed and built than the original, and uses a higher grade of polypropylene, giving it a real 'precision engineered' feel. It also grips the lenses more firmly, so they have less tendency to fall out, or move.
In addition, the wider card slot means you can view standard postcard size (6 x 4" or 15 x 10cm) prints, so it's an ideal viewer for Loreo or similar stereo prints. I have a little Canon Selphy dye sublimation printer that produces ideal stereos for this viewer.
Seen below in a parallel-viewing stereo courtesy of Ron Labbe, is a version that he modified by adding a low-cost widely-available LED light to ensure that there is always plenty of light on the image.

Ron Labbe's version modified with an added LED light
Construction
The viewer is delivered flat-packed with a pair of lenses as below, ready for some simple origami to make the version above.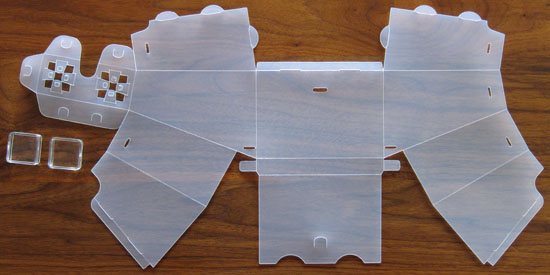 The stereoscope unfolded
It typically takes ten to fifteen minutes to assemble - full instructions are supplied with the viewer, and are available for download here. Watch Andreas Bohlender's great little video to see it happen live.
Lenses
The lenses for the viewer are of high quality optical grade acrylic. As shown in the photograph below they incorporate prisms, which makes viewing much easier particularly for beginners to stereo. Most viewers in this price category have lenses that are inaccurately moulded, or made from cheap plastic, or too small to offer any prism effect. Ours pass all these tests with flying colours.
Note also that we do sell these lenses separately, at a very economical price, so if you want to build your own low-cost viewer, they're an ideal starting point.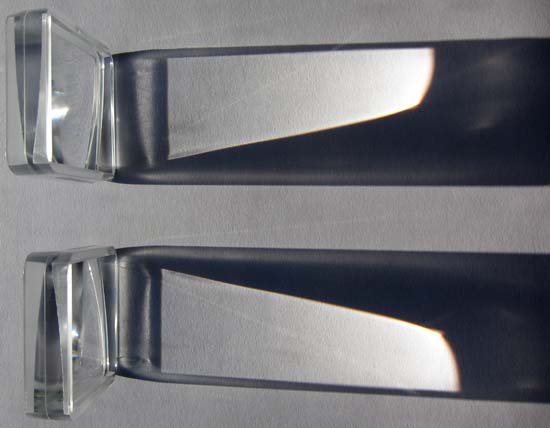 The lenses, showing their prismatic effect
Why is the prism important? When you look at a stereo photo, your eyes have to focus on the image at a distance of around 150mm (6") in order to see it sharply. To achieve this, muscles in your eye stretch and relax to adjust the lens thickness; this is called 'accommodation'.
At the same time, since your eyes are approximately the same distance apart as the pair of images, they have to look into the distance, keeping the optical axes of the two eyes parallel. This mechanism, 'vergence', is thus in direct conflict with the accommodation necessary for sharp focus.
The prisms in the lenses, by diverging your view through them, help to reconcile these two mechanisms. Without them your eye muscles and brain would have to do the work unaided, in a headache-inducing breakdown of all the normal rules of vision.
To the top